Welcome to the Moving Squad
Your Local, Long Distance & Commercial Moving Experts
Full Service Moves Anywhere In the Continental U.S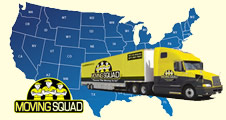 Moving Squad has everything that you need to get you anywhere you want to go. Over the past decade, our dedicated professionals have headlined countless relocation ventures – moving families just like yours in the process. What started out as a local company in the tight-knit community, has blossomed into one of the country's most reputable moving companies. So what are you waiting for? Come let us show you how we can speed up your move today. Regardless of whether you are relocating within your neighborhood in Broward, Miami Dade or Palm Beach County or interested in chasing your dreams in another state, Moving Squad can provide quality moving help. When we say that we will handle your full service move, it means that you won't have to lift a finger during the relocation process. So what are you waiting for? Call Moving Squad right away for cheap moving options.
Moving Squad Is the Most Versatile Moving Company Around
While other relocation companies may be able to handle some of your moving requests, we stand alone because our versatility allows us to cater to them all. From providing you with extra moving supplies, to getting your vehicle to your new city on time, we truly are your all-in-one relocation shop. Our licensed and insured movers will even quilt-pad wrap your furniture and help you avoid all physical labor during your cross country move. Oh, and there's another reason why you should choose Moving Squad. Since everyone has different responsibilities, you need a moving company that's flexible enough to adapt to your hectic schedule, right? Fortunately, Moving Squad definitely falls into this category. So while you juggle your family life and growing career, our veteran movers will see to it that you're items are taken cared of. Just trust us!
Moving Squad – Team Move, Team Service
Although they are well-fitting, our top movers don't wear numbered jerseys to make a fashion statement. The uniform signifies that each mover is part of the ultimate moving team, dedicated to leaving our customers satisfied. Have you ever contacted a moving company and still felt like you had to tackle your move alone? You know that helpless feeling you get after spending half an hour talking to a sales representative that couldn't answer any of your questions? When you call Moving Squad, there will only be one knowledgeable representative on the line, but our entire network of professional movers will be standing by to cater to your specific moving needs. Moving Squad is built on quality customer service from our sales department to the friendly movers that will show up at your doorstep. Call us for a team move, with exceptional team service.