The Moving Squad Advantage
Local, Long Distance & Commercial Moving Experts
The Moving Squad Advantage Explains Why Moving Squad Is the Best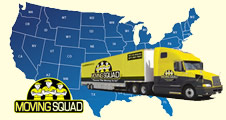 When you hire Moving Squad, you will be able to take advantage of the moving services that other relocation companies won't offer. Our movers want to grant you access to an exclusive moving club where all of the moving resources you need will be at your fingertips. Stick with us as we go over some of the perks that you will get when you choose Moving Squad. This is The Moving Squad Advantage
Affordable Moving Services Made for You
If you're moving on a tight budget, there isn't a better moving company out there for you than Moving Squad. Not only do we offer free moving quotes, but our movers can also work with you to customize a moving plan that correlates with the amount you want to spend. Professional moving help shouldn't be something that only a small percentage of people can realistically afford. Moving Squad has the cheap moving options that will help you save. Get moving in a cost-effective way.
Customer Service at Its Finest
When you're worried about your moving plans, a smile and a warm greeting can mean all the difference in the world. While low-prices and excellent moving services are a start, our friendly staff will let you know just how much we appreciate your business. From that initial phone call to the handshake at the end of your move, you will see why our customer service department is second-to-none. Cheer up and call Moving Squad!
Decades of Moving Experience
Although there's a large variety of moving companies in the industry, Moving Squad stands out as one of the more experienced ones on the market. Over the past decade, our house and commercial movers have handled countless moving requests. So when the time comes for you to make your move, you won't have to worry about getting excuses or dealing with rookie mistakes. Our professional movers will give you the peace of mind you desire.
Nothing But Quality Local Movers
No matter where you live, our local movers will be able to provide the kind of moving help that you expect. Regardless of whether you need someone to carefully pack up your items or a team that can lift your heavier appliances, our local movers will be right there by your side. Moving Squad only hires movers after intensive background checks and thorough training sessions. These are the kinds of professionals who will allow you to have a relaxing moving day instead of a stressful one.
Technologically Advanced Equipment
Moving Squad has always been known for its state-of-the-art equipment and modern fleet of moving trucks. So if you want to relocate with a team that will give you the best possible service, just depend on our movers today. By keeping up with technology, our movers will safely transport your goods using the latest industry tools.
These are just some of the ways that Moving Squad will make your relocation special. If you're ready to sign up for The Moving Squad Advantage, contact our friendly customer service department as soon as possible. Don't struggle through your next move. Instead, make use of The Moving Squad Advantage